Back to Blog
13 Unique Benefits of Texting with Patients
April 7, 2022 6 minutes To Read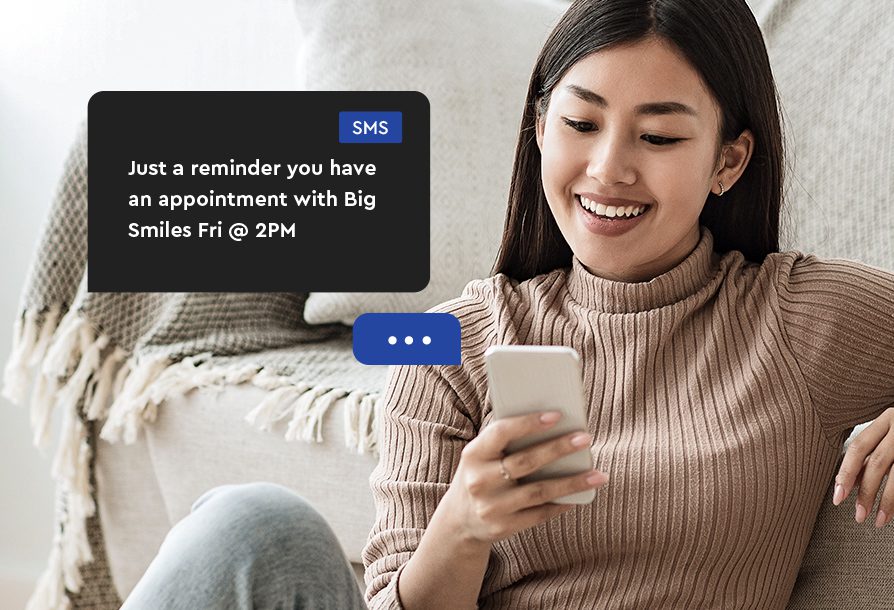 It's no surprise that people essentially live on their phones today. In fact, the average Us consumer's daily screen time increased by almost 50% between 2019 and 2021. And, with 78% of consumers saying that checking, sending, and answering text messages is the activity they do most on their smartphones throughout the day – there's no doubt that texting with patients is the #1 way to reach and communicate with them about upcoming appointments and services.
Average Us consumer's daily screen time increased by almost 50% between 2019 and 2021. And, with 78% of consumers saying that checking, sending, and answering text messages is the activity they do most on their smartphones throughout the day
Aside from being the preferred method of communication, texting with patients has countless perks that will benefit you and the oral health of your patients in the long-term.
Here are the top 15 ways that your practice will benefit from texting with patients:
1. Encourages preventative care.
By texting with patients you can strengthen your relationship with them and gently remind them when their next appointment is due. By having the right technology and automations in place, you can encourage patients to see you on a regular basis before their appointment is past due.
2. Improves scheduling.
Gone are the days of manual schedules and follow-ups. With texting automation, you can remind patients who are due for an appointment and reach out to patients who need to schedule an appointment based on their status in your practice management system.
3. Improves communication.
Emailing with patients can be tricky, as they are flooded with hundreds of emails a day and you risk going into their SPAM folder. And, playing phone tag is never ideal either. Most people read and respond to text messages almost immediately, and you don't risk being a major interruption in their already busy days. By sending a quick text, you can improve responsiveness from patients and encourage them to schedule or confirm an appointment with your practice.
4. Enhances patient experience.
Every interaction with your patients matters. By communicating in a way that your patients prefer, you automatically deliver a better patient experience. If a patient doesn't have the ability to communicate with your practice in their preferred method of communication, you can accidentally add friction to their day and create a negative perception they have of your practice.
5. Increase revenue.
Sending text messages to patients is one of the most cost-effective methods of reaching a large amount of people at once. And, because of their ease of response, you encourage patients to respond immediately, book an appointment, and increase the health of your patients and your bottom line.
6. Direct engagement.
Whereas people may only check their personal email once or twice a day, people today now live on their phones. In fact, the average adult spends 8.5 hours a day on their screen! This provides a fantastic way to reach patients directly, right at their fingertips.
7. Better staff efficiency.
With automated text messaging that ties directly into your practice management system, you free up staff time making additional calls and emails that could take up hours and hours of time.
8. Real-time communication.
According to Viber.com, did you know that 95% of text messages are read within 3 minutes of being sent? And, the average response time is under 90 seconds! Text messaging is a great way to get an immediate response or action taken to contact your practice.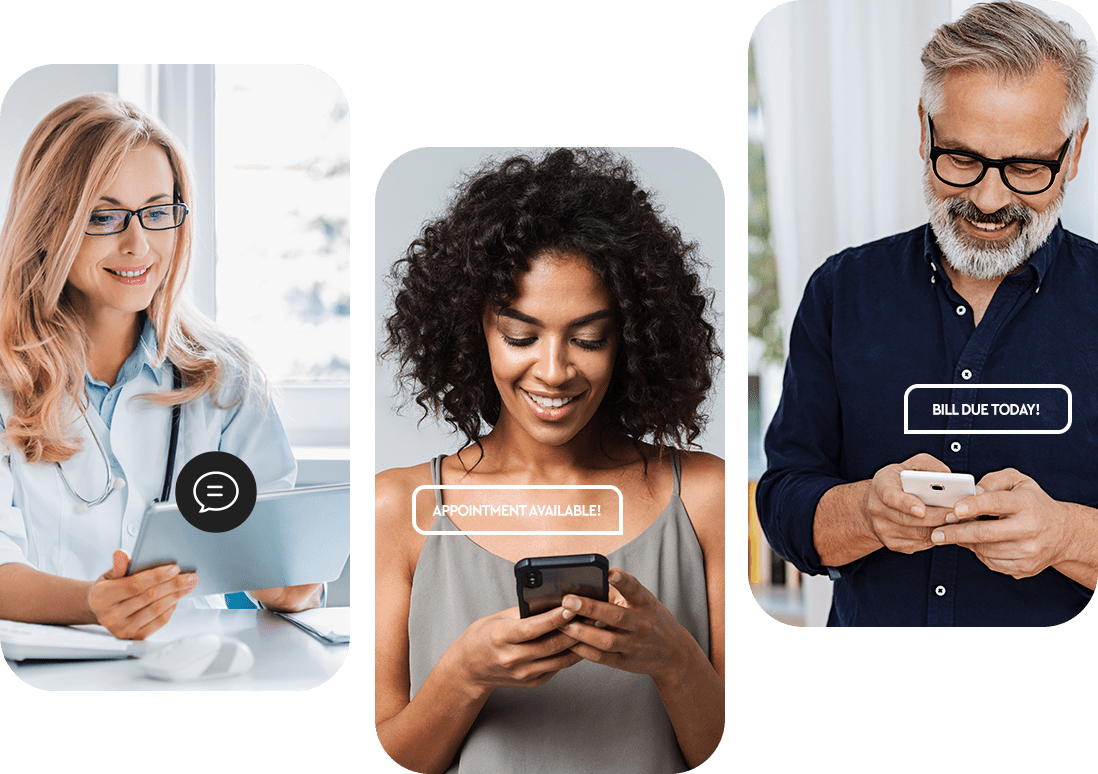 9. Ensures proper after care.
If your patient receives a procedure, you want to ensure they follow a specific set of rules after the fact to ensure they are happy with the service they just received. By having an automated texting service, you can easily send a text message to patients that shares after-care instructions to ensure they see optimal results from their service.
10. Decrease no-shows.
Whether it's a family emergency, having a change in schedule, or simple forgetfulness, having a no-show is costly to your practice (and can have a negative impact on your patients health!). With automated texting reminders, you can help patients receive a friendly 'nudge' that their appointment is coming soon, and give them an option to reschedule within your allowed timeframe. Patients will appreciate the reminder, and it can save your practice thousands of dollars in reducing no-shows or late cancellations.
11. Build your online reputation.
Automated text messaging isn't just for reminding patients of upcoming appointments. It's a great way to follow up with patients after an appointment as well! You can send a text that asks them to rate their experience, and for those who rate you a 4 or 5 (out of 5) you can prompt them to leave a review on your Google My Business, Yelp, or website page. Timely follow up after an appointment is key to keep the momentum going, and a text message is the ideal channel to deliver this type of request. Imagine if you could text every single happy patient 5 minutes after their appointment to leave a review? You could have hundreds of 5-star reviews across various channels within just a couple of months – and automated texting make this possible.
12. Foster patient loyalty.
The happier patients are with your practice, the easier it is for them to remain loyal to you. Think about your experiences with various businesses; if you had to constantly play phone tag, or couldn't communicate with the business in the way that you prefer – you would get frustrated and it would create a negative impact on how you viewed the organization. The same line of thinking applies to your dental practice. The key to fostering loyalty is providing a streamlined, pleasant experience every step of the way. By delivering communication channels a convenient, non-time-consuming manner for them, you increase their satisfaction with these 'micro-moments' and help maximize the satisfaction they have with interactions at your practice.
13. Set it and forget it.
The beauty of automated text messaging is that you can set specific cadences to communicate with patients while taking things off your front-office staff's plate. You can set reminders to go out 1 month, 1 week, and 2 days prior to your patients next appointment. You can set Birthday texts to go out on the day of their birthday. You can set recall and reminders to go out if you haven't heard from a patient in X amount of months. With a customizable solution, you can set appropriate cadences to avoid over or under communicating with patients, so they always feel like they are top-of-mind and a priority for your practice.
Gone are the days of phone tag and emails being caught in the SPAM filter.
Instead, text messaging with your patients gives you a direct line into their fingertips, encouraging responses within seconds. Plus, text messaging is one of the most preferred methods of communications, which will deliver a greater patient experience with your practice. By offering a variety of communication options that your patients prefer with your practice, you can set yourself apart from competitors and ensure that patients are happy with your practice through every interaction.
Spend time with each patient discussing other forms of treatment that can be implemented during their visit. This could include transferring an existing crown to an implant, or offering teeth whitening treatments. Having up-to-date skills and knowledge of the latest dental procedures is always a plus!
Maximizing production per visit is critical in running an efficient dental practice. Taking steps to improve your team's productivity not only benefits the practice, but it also enhances the overall patient experience. From improving patient communication to efficient scheduling and upselling cosmetic treatments, there are a multitude of strategies that dental professionals can use to increase production per visit. Utilizing the tips outlined here is a surefire way to improve the value of each patient visit while increasing profitability.
Remember to measure your progress regularly, track your production per visit, and adjust your strategies as needed. With the right mindset and approach, you can succeed in achieving your production per visit goals and growing your dental practice.
Ready to get started?
To learn more about automating your text messages with patients, reach out to us for a demo today.