Back to Blog
5 Trends in Dentistry for 2023 and How to Use Your Software to Prioritize Patient Experience
January 22, 2023 6 minutes To Read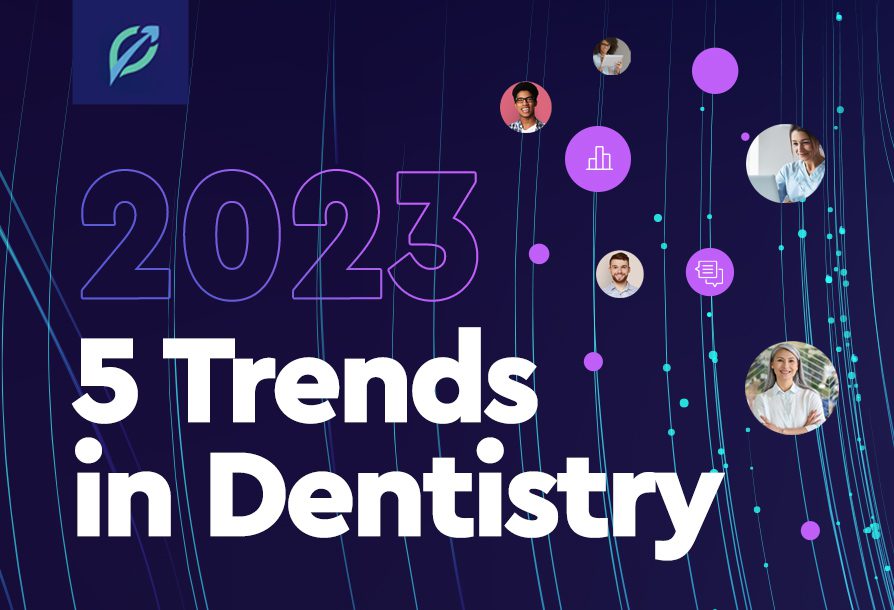 Most dental offices are aware of the benefits of using patient communication software for things like confirmations and recall. As technology advances and providers recognize a need for improved patient experience and convenience, new trends emerge. Let's take a look at some of the trends you should be aware of in 2023, and how you can utilize your software to stay ahead of the curve and provide a superior patient experience that keeps existing patients happy and helps attract new ones.
Trend #1: Prioritizing Patient Convenience
Online Scheduling
Patients are increasingly turning to online scheduling options to easily book appointments without having to call the office. This trend is expected to continue as more people are now accustomed to managing their health care needs digitally. Additionally, this convenience also allows offices to improve efficiency by reducing administrative tasks associated with manual scheduling.
Online Forms
In 2023, digital forms will become increasingly popular in the dental industry as more practices move towards paperless records. Online forms provide a patient-friendly experience that is both convenient and efficient. Digital forms allow providers to quickly capture patient information, streamline paperwork processes, and reduce errors associated with manual data entry.  
Online Payments
With the ability to pay through a secure website or app, patients no longer have to worry about mailing checks or making in-person or over-the-phone payments. Online payments streamline the process of billing and collecting payments, reducing administrative costs and freeing up staff for other tasks.
Trend #2: Prioritizing Patient Communication
Two-way Texting 
In addition to automated text reminders, two-way texting cuts the time-staking hassle of playing phone tag, allowing offices to exchange personalized messages with patients in real-time and reach them in the ways that they prefer most. This is even more convenient when texts come from the office phone number and all patient communications are stored in the practice management system for easy access in the future.
Canceled Appointment Follow Ups
Following up with patients who miss or cancel their appointments is an essential part of patient communication. Not only does it show the patient that their wellbeing is important, it also helps build a relationship of trust, increase engagement in their care, and ensure that gaps in treatment are addressed.
Webchat
Webchat delivers a simple, seamless, and intuitive way for patients to easily engage with the practice instantly, helping to increase patient engagement with both existing and new patients. Providers are able to handle multiple conversations at once, increasing efficiency and saving time for everyone involved.
Trend #3: Prioritizing Patient Education
Post-Op Instructions 
Post-op campaigns offer a number of unique benefits. Emails can be saved for future reference, eliminating the possibility of patients losing printouts given at their appointment. Furthermore, emailing post-op instructions allows access to helpful resources such as educational videos, presenting an excellent opportunity for dental practices to nurture a long-term relationship with patients while delivering comprehensive care.
Unscheduled Treatment Campaigns
Following up on pending treatment is an important and too often overlooked task in dental offices. By proactively encouraging patients to schedule treatment with friendly, caring reminders, dentists are not only ensuring patients are receiving the highest possible level of care, they are also demonstrating a strong commitment to their patient's oral health and wellbeing.
Custom Campaigns
Patient emails don't always have to be appointment related. Email campaigns can be used to wish patients a happy holiday, notify them of important office changes, or even educational dental tips! Custom campaigns allow the office to stay engaged with patients all through the year, helping to build relationships and improve patient loyalty through timely and targeted communications.
Following up on pending treatment is an important and too often overlooked task in dental offices.
Trend #4: Prioritizing Patient Relationships
Smart Caller ID
To truly enhance the relationship between staff and patients, a screen pop can provide detailed information when a patient calls, eliminating tedious searches and saving valuable time. Immediate access to essential details allows the front desk team to provide a more pleasant, personalized experience that turns even low-value calls into opportunities to strengthen relationships with current and prospective patients. 
Reviews 
Receiving feedback from patients is a necessity not only to understand the satisfaction of patients with their care, but also to gain insights into areas of improvement that ultimately can benefit all patients in the long run. As such, it is essential for dental offices to invest in receiving regular feedback from patients so that they can provide the best possible patient experience.
Daily Huddle 
More and more, dental offices are using daily huddles to provide an individualized, personalized patient experience. When staff can quickly identify conversation starters like birthdays or thanking patients for referrals or reviews, these gestures can go a long way in forming long-lasting, meaningful relationships that keep patients loyal for years to come.
Trend #5: Prioritizing Patient Time
Insurance Verification
Insurance verification can be an incredibly time-consuming and frustrating task, making bulk insurance verification an invaluable tool for any dental practice. Automating this process saves hours spent on paperwork or waiting on hold for answers from insurers – leaving staff free to focus more of their resources where it matters most: providing timely, quality care for patients.
Check In Kiosk
Having a digital kiosk at reception can streamline patients' check-ins, making things more convenient and efficient for everyone involved. Plus, it provides the added benefit of extra privacy during the check-in process. With patient info forms and consents easily available to view or complete when needed, implementing a check-in kiosk will help improve front office organizational flow and wait times.
Making your patients a priority has always been important, and in 2023 it will be more essential than ever before.
By putting your patients first, you can stay ahead of the curve and ensure success for your dental practice well into the future.
There are many ways you can use software to streamline and enhance your patient experience, and there are many options out there to choose from. Practice by Numbers is an all-in-one solution that covers every item on the list, and more!
Spend time with each patient discussing other forms of treatment that can be implemented during their visit. This could include transferring an existing crown to an implant, or offering teeth whitening treatments. Having up-to-date skills and knowledge of the latest dental procedures is always a plus!
Maximizing production per visit is critical in running an efficient dental practice. Taking steps to improve your team's productivity not only benefits the practice, but it also enhances the overall patient experience. From improving patient communication to efficient scheduling and upselling cosmetic treatments, there are a multitude of strategies that dental professionals can use to increase production per visit. Utilizing the tips outlined here is a surefire way to improve the value of each patient visit while increasing profitability.
Remember to measure your progress regularly, track your production per visit, and adjust your strategies as needed. With the right mindset and approach, you can succeed in achieving your production per visit goals and growing your dental practice.
Ready to get started?
To learn more about prioritizing your patients experience, reach out to us for a demo today.